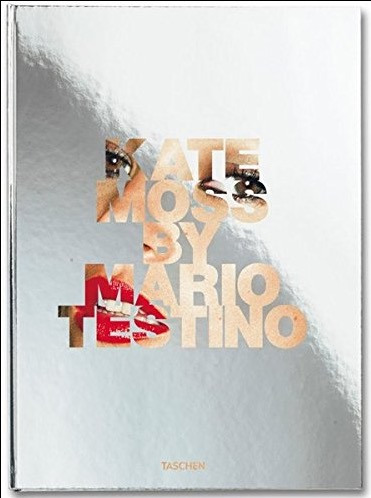 Hardcover
English
1 Edition
Taschen, 2010
Foreword by Mario Testino
Exclusive essay by Kate Moss
Over 100 images in black-and-white and colour, including many unseen private photographs
Boxed hardback special edition – limited run of 1500 signed copies
signed
Condition: New (opened only for signing)
Mario Testino's personal choice of his photographs of Kate Moss

The unseen Kate: the most intimate photos of todays biggest international fashion icon by the fashion world's favorite photographer. Limited to 1,500 copies, each numbered and signed by the artist.

Mario Testino is recognised as the ultimate fashion photographer of his generation but his pictures of Kate Moss transcend fashion. The consequence of two decades of extraordinary friendship, and phenomenal glamour, this iconic collaboration is an intimate insight into the lives and minds of two of the world's definitive style leaders.

Mario says "I met Kate very early on. Shortly after her first Galliano show I went backstage to congratulate her, only to find her crying: she was disappointed that she had only been given one outfit to model in the show. My answer to her was this: "In life there are perfumes and colognes. You need to use lots of cologne as the scent fades away; with a perfume you just use a drop and it lasts all night. You are a perfume, you will go on and on." Little did I know just how true that would become! And that I had made a friend for life."

In a rare glimpse into the mind of one of the industry's most private figures, Kate Moss also gives her insights into her life with the celebrated photographer, expanding on both their professional and personal relationship.

"Mario took me to a new level of glamour. I don't think anybody had seen me as any kind of sexy model before he did. He was the one that transformed me. Before him I was just a grungy girl, but he saw me differently. He was the first to say "Oh, she's quite sexy. I've seen her out! I know she's not just that grungy girl." He'd seen me in a pair of heels, getting glamorous – and he was the first to start taking pictures of me in that way. He changed the way people thought about me as a model, for sure. Later other people started working with me in that way, but he was the first."

This book catalogues the journey of one of fashion's most creative collaborations, from early days backstage at the shows, to behind-the-scenes glimpses of the ground-breaking editorials they continue to produce for the world's most respected magazines. Many photographs have been chosen from Testino's private archive and are published here for the first time.
Kate concludes, "People are really enthralled by Mario, when they meet him he's so giving and generous with himself, it's never just about him. He always gives so much of himself - he'll teach people, he'll help people, he's really sensitive to people and who they are. When he walks in a room it's like a light has been turned on. He has passion and energy and vibrancy and all those things that make a person a superstar really."

This book is Mario's personal homage to his greatest muse: a young girl that captured his heart and eye with her beauty, humour and spirit, and whose image in his photographs has captured imaginations the world over.

Contents include:
· Foreword by Mario Testino
· Exclusive essay by Kate Moss
· Over 100 images in black-and-white and colour, including many unseen private photographs
· Boxed hardback special edition – limited run of 1500 signed copies

About the Author:

About the artist:
Peruvian-born Mario Testino travels extensively shooting for Vanity Fair, American, British, and French Vogue. Other clients include Burberry, Versace, Dolce & Gabbana and Michael Kors. His solo exhibitions have shown in galleries worldwide, and his work is held in the permanent collections of the National Portrait Gallery and V&A Museum in London, and others.

"About this title" may belong to another edition of this title.