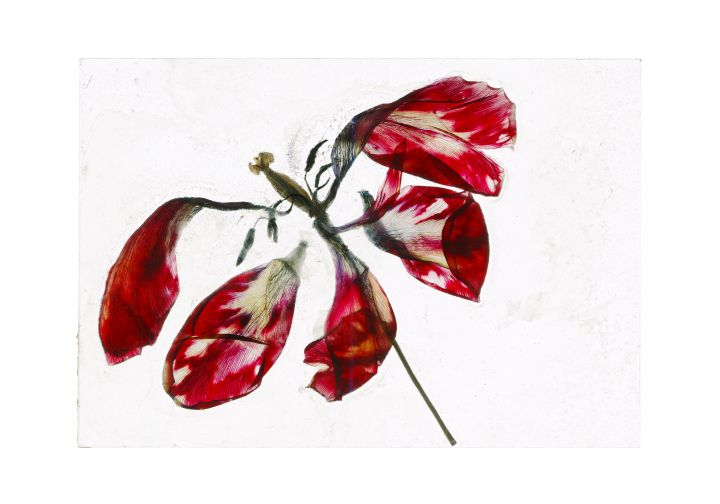 Between Mists of Memory
A beautifully withered flower, the tenderness of an insect's wing, a hint of daylight on a vanishing world.
The Béatrice Brunner Gallery cordially invites you to Brigitte Lustenberger's solo exhibition from 12 June to 3 July 2021. There will be no vernissage. The artist will be present in the gallery on Saturday 12 and 19 June and 3 July from 1 - 4 pm.
Photographs are light pictures. The fleeting nature of a light drawing and the preserving nature of a photograph are important elements in Brigitte Lustenberger's work. Her process-oriented work reflects the fragility of our planet's ecological balance, questions our notion of transience, but also poetically shows the beauty and tenderness of withering and decay. Lustenberger works at the intersection of photography, projection, sculpture and installation.
Her series "An Apparition of Memory" and "This Sense of Wonder" exhibited in the gallery show withered flowers and dead insects as photographs, projections and installations. Yet the works are neither dark nor morbid - light transforms the semi-transparent body parts of the insects and the flowers shimmering through into haunting and delicate images. They are at once enigmatic, poetic and melancholic. Even as she focuses her gaze on the inevitable end, Lustenberger pays homage to the beauty of existence: with the dazzling luminosity of the colours of her wilting flowers and the tender fragility of the insects prepared on slide glass plates that touch the heart.
Gallery Béatrice Brunner
Nydeggstalden 26,
3011 Bern
Thursday and Friday 14 - 18 h
Saturday 12 - 16 h