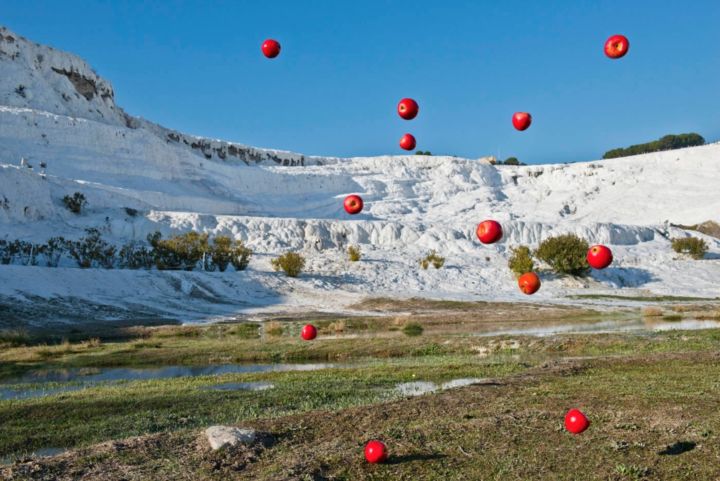 The major photography rendez-vous of South-East Asia celebrates its 10th edition this year!! 10 years, 10 editions: the kick off will take place, once again, at the French Institute of Cambodia, the main partner of the festival since its creation in 2008.
True to the orientations that were taken then, Photo Phnom Penh remains an important moment of exchange between Asian and European photographers from around the world. It aimed at being, from the beginning, a platform to allow the creation of a "school" of Cambodian photographers. Today, three generations are celebrated in this edition, including on the wall of the Embassy of France – symbolic place of the festival – the exhibition of the 10 most important contemporary Cambodian photographers.
Self Portrait and On Life
Jun Ahn's series "Self Portrait" and "On Life" complement each other to analyse – or invent – the world. In her self-portraits the young woman, perched on top of buildings gives us vertigo but never falls, never gives in to the terrestrial attraction.
In the second proposal she magically steals the brightly colored apples that are harmoniously organized in the rectangle and seem flying. These are, in fact, in both cases, photographs of performances that only existed to be photographed. From the symbolic transcription of two periods of the life of the artist who, in the United States where she was a stranger, settled in what most obviously meant the modernity of her new country, and then returned home to confront the photography, its tool, to the basics that govern the universe.
Ahn studied at the University of Southern California, where she earned a degree in Art History in 2006, prior to two years of postgraduate studies in photography at the Pratt Institute.In 2009 and in 2010 she was awarded the Dean's Scholarship at Parsons School for Design, and in 2011 received both the Dean's and a departmental scholarship. During this time, her "Self-Portrait" project received its first major exhibitions, in New York. The Parsons awarded her a Master of Fine Arts with honors in January 2012, following which she enrolled in a PhD program in photography at Hongik University in Seoul. Ahn received her ph D degree in photography in 2017. Her dissertation investigates the aesthetic of high-speed photography and in a relation to performance and high-speed photography on her work. She published her two series with two Japanese publishers. She is currently working and teaching in Seoul, Korea.