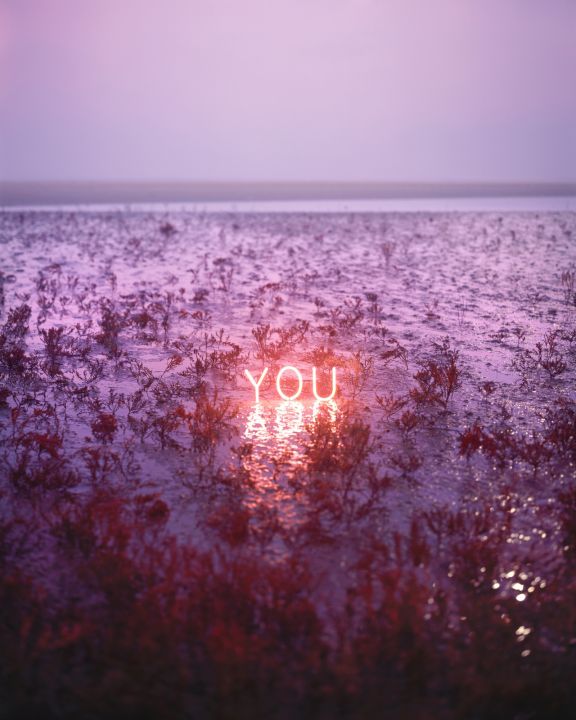 S2A is holding the contemporary artist Jung Lee's SOMEWHERE BETWEEN DAY AND NIGHT curatorial exhibition. The artist meditated on the limits of language as a foreign student in the U.K. Her experiences facing the emptiness befalling the other side of langauge became her works' motif, and her interest in text led to art. She later began using neon as a tool for turning text into images, and it concluded with the medium of photography.
Her works began with appropriating common phrases from literature, movie lines, and song lyrics one could easily come into contact with in their surroundings. While collecting commonly used words of love and locating them in unrefined scenery, she reveals profound irony and contradictions on the other side of beautiful language.
The Aporia series, which could represent Jung Lee's identity and direction, was inpsired by "A Lover's Discourse" by Roland Barthes (b. 1915). This is about the dillema experienced by someone in love, and the lover is said to consume stale expressions of affection to express the emotion of devotion and end up adoring love and not the beloved subject. The artist sought to express the dillema of passion through phrases such as "I LOVE YOU WITH ALL MY HEART," "YOU STOLE MY HEART AWAY," and "I AM LOST IN YOU" in order to express such complex and delicate human emotions regarding love.
This exhibition presents various works, from those never before exhibited in Korea, including the Aporia series, to a neon installation filling a six-meter wall. The new Neon series was inspired by the crafting process of a master neon artisan the artist has been working with for many years. Neon assumes the forms of letters through a manual process of bending neon tubes using fire, and the artist calls such a crafting process the language of neon. Letters wholly holding the language of neon, created while heated and bent, reveal themselves painted black on a white background while expressing their presence as they are read in and of themselves without needing to emit light. This is portraiture just for neon and the artist's homage to neon history.
This exhibition's title of SOMEWHERE BETWEEN DAY AND NIGHT is expressed with neon and welcomes viewers at the gallery entrance. The moment day and night intersect, which only comes twice a day, is a moment like the birth of inspiration for the artist, and it is also when the light of the neon and nature form the most ideal harmony for photography. This phrase, which is to be encountered at the exhibition's start and finish, reveals a sense of anticipation for the artist's journey that will continue while connoting and reflecting on the journey of past time, as it simultaneously adds strength to the space while dyeing the gallery. You are invited to view and appreciate the works of Jung Lee, who has built a unique art realm out of special significances and sensibilities with her own rhythm.