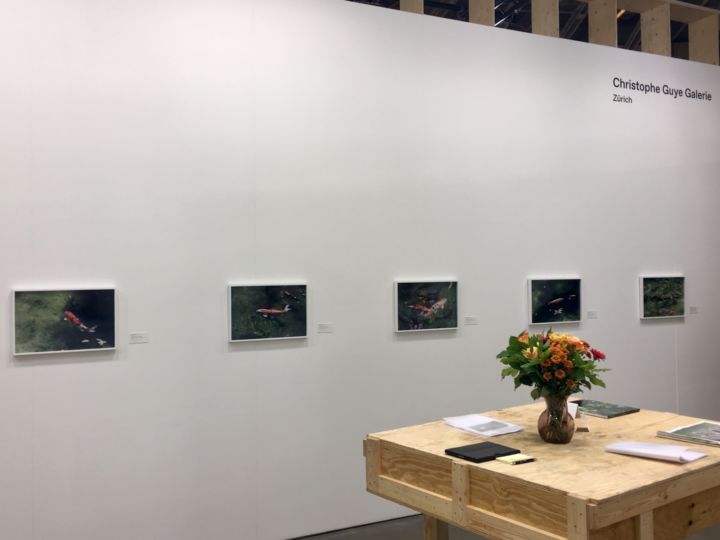 We are very pleased to show works by Risaku Suzuki and Lina Scheynius from their respective series 'Koi' and 'Flower' at this year's edition of Unseen Amsterdam.

Risaku SUZUKI:


I am interested in the state of our consciousness of seeing, and it is my subject of my works. When we are on a lake, we can't mistake trees shadow on the water for real trees, but the difference between them becomes unclear in the photograph. In 'Water Mirror' series, I explore how images change depending on where the focus point is.
'Koi' was born while I photographed 'Water Mirror'. By the movement of Koi (Carp), the ripples, the sparkling of light on the surface of water and the shadow of the waves at the bottom of the lake appear in frame, then transparent water is visualized. 'Koi' deals with the act of seeing water.


Lina SCHEYNIUS:


Lina Scheynius' approach to intimacy has always been refreshingly light-hearted. Same approach is reflected in her latest series 'Flower', for which she, however, increasingly works with suggestions that might seem random, almost raw, yet are atmospherically and sensually charged. Thereby the (natural) lighting is elaborate and the composition well-balanced. Lina Scheynius repeatedly expresses her love for nature in dreamy illuminated, pastel-coloured or monochrome compositions and thereby increasingly takes back on her own person. Her work has thus evolved into a complex and nuanced signifying visual language, placing sexuality and nudity less in the foreground, yet - the works are becoming more intimate than ever.
In the series 'Flower' this reference to nature and its apparent understanding implied by the texture of the flowers is clearly expressed. Essentially, through her work approach, she presents intimacy as the most honest of all forms and actions as well as nature as instinct, longing and romance.


We look forward to welcoming you!