Reims
'In Reims, I was naturally drawn to the unmissable places like the cathedral or the halls of Boulingrin, but I also wanted to explore everyday places in the settlements, like the Croix-Rouge neighbourhood. Because unlike the monument, the housing module creates a rational and utilitarian functionality that is extremely simplified and negates any historicity of the place. I have combined these fragments of modular architecture with other sculptural elements such as those of Imi Knoebel in Reims Cathedral, of Jean Lurçat in his tapestry 'Champagne' or even of Victor Vasarely with his works on urban art, in a form of reconciliation of the arts.' – Stéphane Couturier
Tapisserie
''Le Chant de l'Apocalypse' combines the medium of photography with the medium of textiles to create a contemporary tapestry. The beginning of this research was made possible by an invitation from the Musées d'Angers in 2020. There I studied the two masterpieces of tapestry, the 14th century 'tenture de l'Apocalypse' and the 20th century 'Chant du Monde' by Jean Lurçat. Since the latter gave up painting to devote himself to tapestry art after discovering the 'tenture de l'Apocalypse', I wanted to physically bring these two closely related works together. A series of photographs based on the fusion process I have been practicing since 2005 were presented in 2020 in the form of photographic prints, but very quickly the idea of making a tapestry in the continuity of the original medium seemed essential.' – Stéphane Couturier
E1027+123 – Villa Eileen Gray
For this new project, the artist finally crosses the thresholds of houses and focuses on what occurs behind shutters and parapets. He photographs the flipside of the walls: the side that harbours and no longer that which exhibits. This shift from exterior to interior is inevitably accompanied by a dive into intimacy. In terms of architecture, it would appear that domestic and psychological interiors sometimes merge. At least, this is the analogy conceptualised by Eileen Gray, the architect and former owner of the building Stéphane Couturier chose to photograph: Villa E-1027. Built in 1929 at Roquebrune Cap-Martin in the Alpes-Maritimes, this home was her ultimate architectural work. While at the time, modernists were devising the 'machine to inhabit', Eileen Gray was imagining space as an expansion of the self. For her, the home is 'the shell of man, his extension, expansion, and spiritual radiance.'
Les Nouveaux Constructeurs
At the invitation of Julie Gutierrez, curator of the Musée Fernand Léger in Biot (France), Stéphane Couturier intensively studied the work of Fernand Léger, one of the Master of Modern painting in France in the early 20th century. Léger paid particular attention to the upheavals of his time. Alongside the city, the transformation of man through machine and mass production was the central theme of his works, which, starting from the formal experiments of the Cubists, found their own artistic expression, combining Cubist avant-garde with Communist commitment. 'I have become aware of the many elements that bring me closer to him - his fascination for the city, for industrial elements, for architecture, for the geometry of forms...', comments Stéphane Couturier on his examination of Léger's work. When photographs of cityscapes and industrial architecture are combined with the painter's compositions, the principle of superimposing two images, which the photographer has developed into an essential element of his art in recent years, is taken to a new level. The encounter of two different and yet closely related, because architectural structures, leads to works that are both painterly photographs and photographic paintings. Constructively and constructively, these works depict the reality as seen, yet go beyond the merely visible. Not images, but pictures that have their own reality. Photographed as cibachromes and fitted into a black object frame, the photographs become precious objects that uniquely combine old and new in a material way.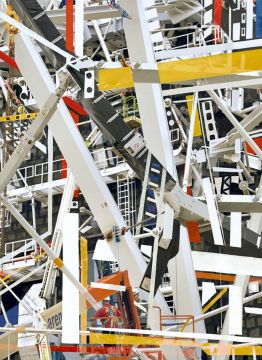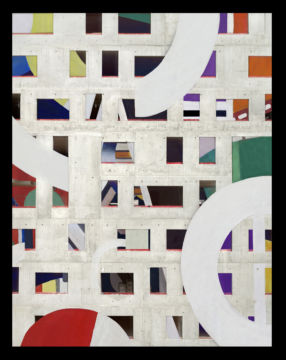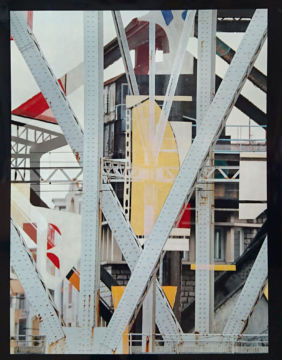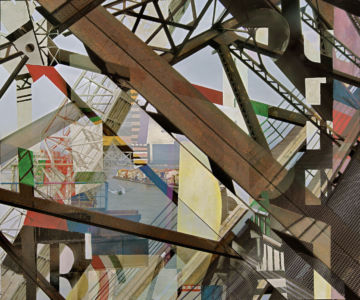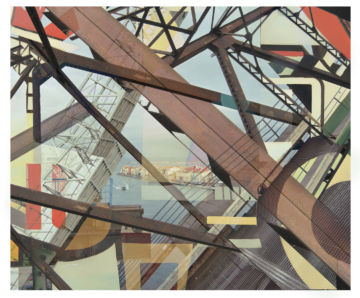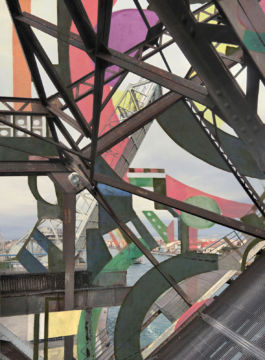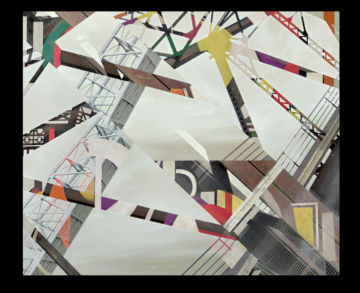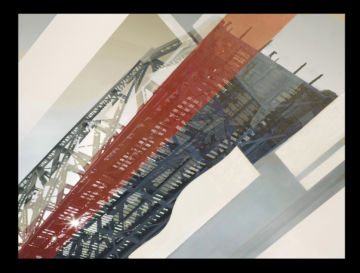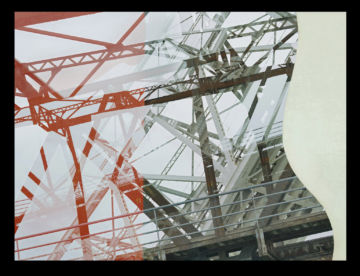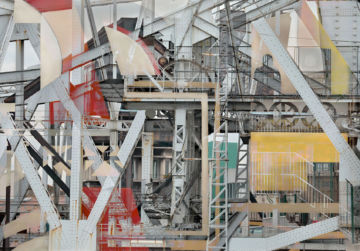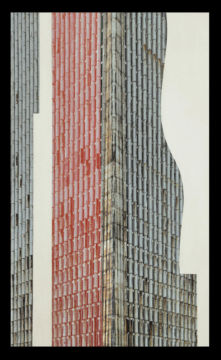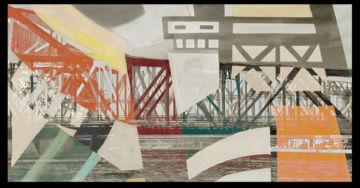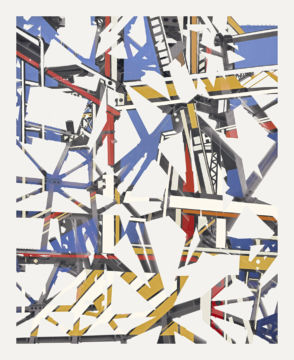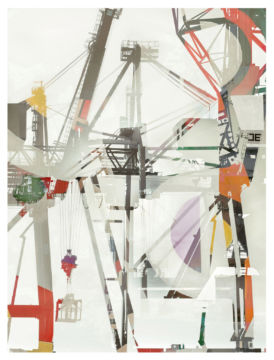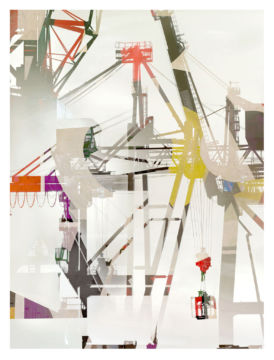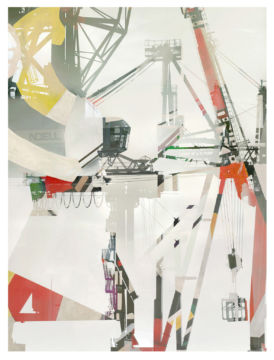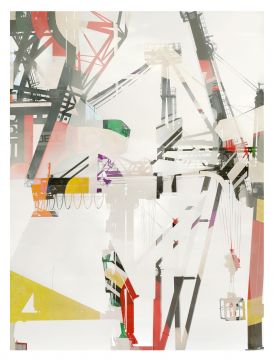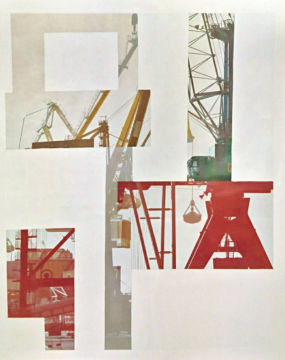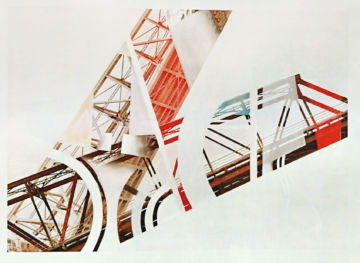 Melting Point / Toyota
Stéphane Couturier series 'Melting Point' presents a Toyota assembly plant in Valenciennes (France). Emphasizing the cycles of construction and demolition endemic to modern industrialized life, the photographs possess dynamic vertical and horizontal lines, elegant curves, and brilliant effects of light and indigenous colour. Using a large-format camera, Couturier creates crisply detailed prints that expand the viewer's awareness of how a photograph can look and how urban occurrences can be conceptualized. Each picture is printed from a sandwiching of two moments in time, creating highly abstract yet precisely detailed images. People, machines, car parts, wires and more all compete for the viewer's attention—images of industry simultaneously out of control and in perfect harmony.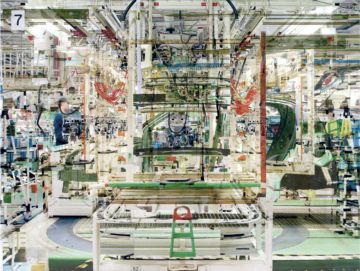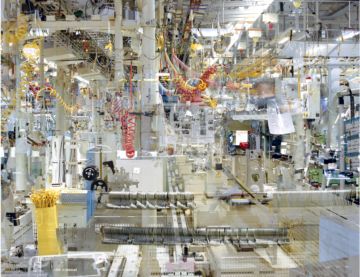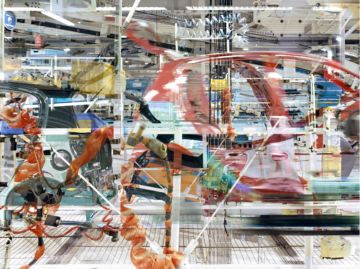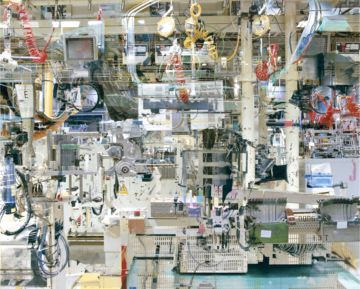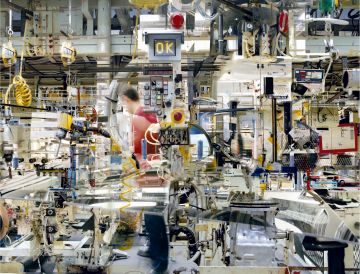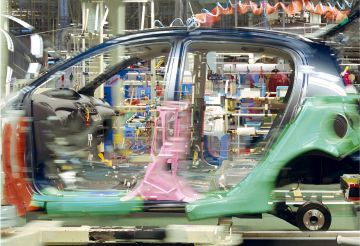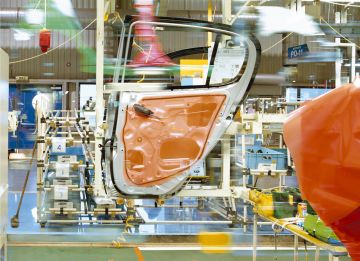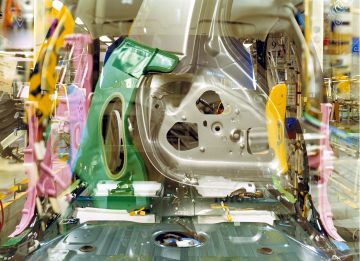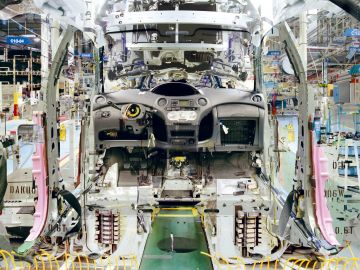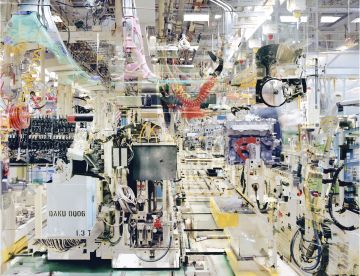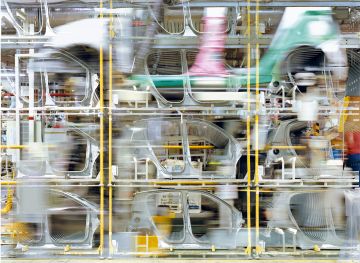 Melting Power / Alstom
On the basis of photographs taken in the workshops of the Alstom factories in Belfort, Stéphane Couturier proposes a kind of figurative abstraction based on a mixture and clash of forms, plastic and coloured realities. His work lies between photography and painting. Alstom belongs to the Melting Point series. With "figurative abstraction" Couturier creates gripping images that make constant movement and change visible. With a high degree of compositional skill, the artist captures photographically universally valid archetypes of 21st century Western civilization, breaking the theoretical framework of photographic possibilities; form and content adapt and become representatives of our ever-accelerating technological world. Between abstraction and documentation, the works explore and question how modern cultures can simultaneously create and destroy.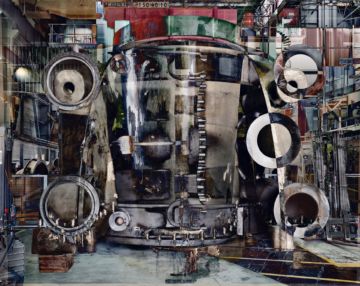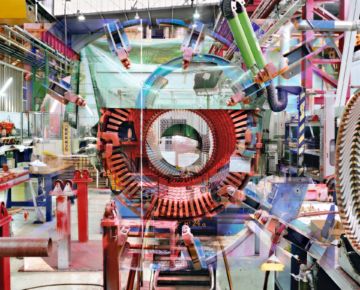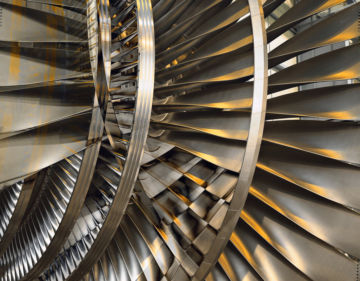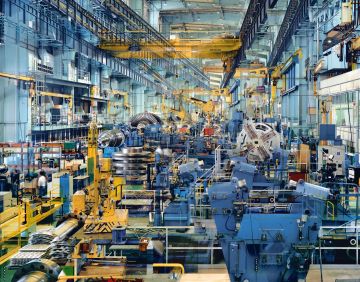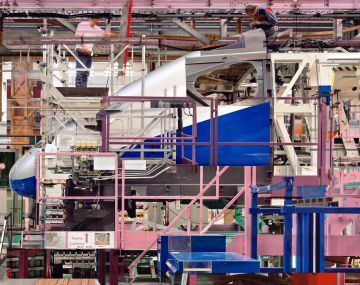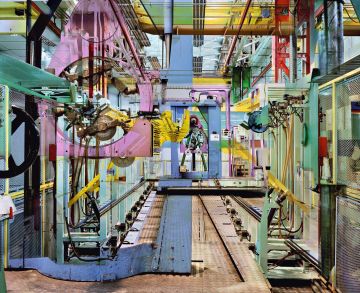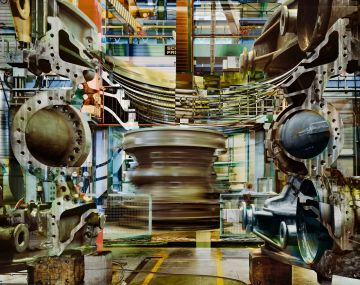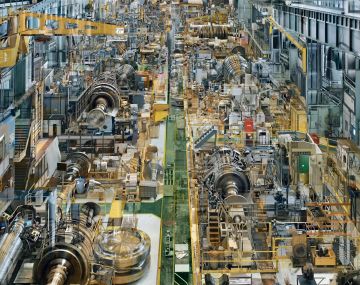 Melting Point / Chandigarh
Stéphane Couturier's series 'Chandigarh Replay' signals a return to urban architecture following 'Melting Point'. This more recent series takes its position right in line with many preceding works, whether his Parisian or Berlin series from the 1990s, or even more so, with those made in Seoul and Moscow several years later. Architecture, and to be more precise, urban fabric, is perceived as a 'living organism', to use Couturier's own words. Always striving for a composition that plays on 'levels of perceiving', strata and layers of memory that make up and deposit sediment on every urban territory: places steeped in history (Paris, Berlin, Rome) or quite the opposite, amnesic (Seoul, Moscow) within which there seems to be always at play a strange elaboration between construction and destruction – both endemic cycles to modern industrialized life. His images play with the opposition between general composition and sense of detail, between view of the whole and close-up reading.
In the series 'Chandigarh Replay' Couturier delivers an ambiguous, dark and colourful vision of the Indian city Chandigarh designed by Le Corbusier. With the help of computers, the photographer overlays the facades of the buildings, sad blocks of reinforced concrete and the interior decorated with colourful modernist frescoes. The reality of the city is reduced to flat color surfaces, almost to a backdrop.
Alger
In his latest series, which was created over a period of more than three years, Stéphane Couturier explores, in highly aesthetic and, at the same time, socially ambitious photos and videos, the 'Climat de France' housing project – today called Oued Koriche – in Algiers. Built in the International Style in the 1950s and based on a design by French architect Fernand Pouillon, the ambitious project is now the centre of the Bab-El-Oued district. Today the housing project is a city within a city, forgotten by politicians and avoided by the police. While his previous work had been focused mainly on the formal aspects of modern architecture, his newest pieces also explore the people, who bring life to these architectures, designed at the drawing board, and who thereby adapt these ideal structures to their own ideas and needs. The buildings' strict forms and regular structures encounter the accidental occurrences of everyday life. Stéphane Couturier's photos and videos derive their force and vivacity precisely from this tension: from the collision of the constructed ideal with lived reality. In addition to their aesthetic quality, Stéphane Couturier's works from Algiers acquire an almost topical relevance. The works subtly address the consequences of colonialism in North Africa, which are still felt today, and thus also probe one of the roots of current global political and social developments, especially in this region.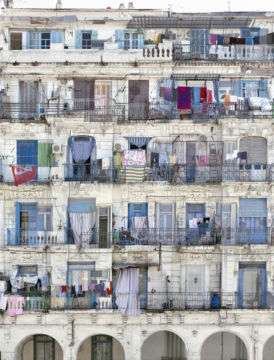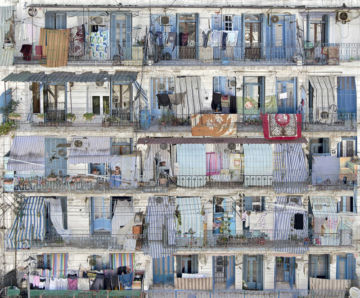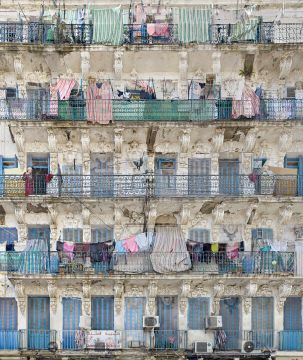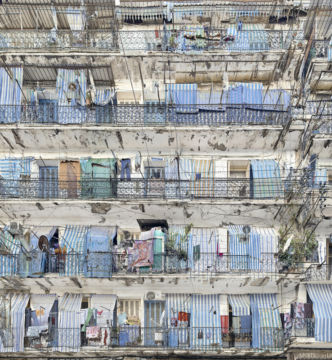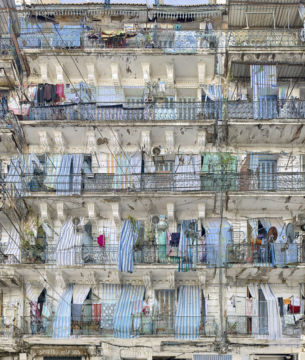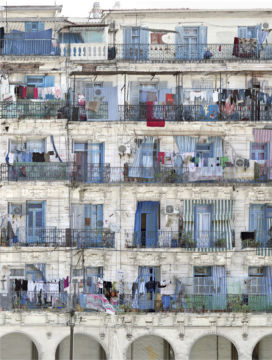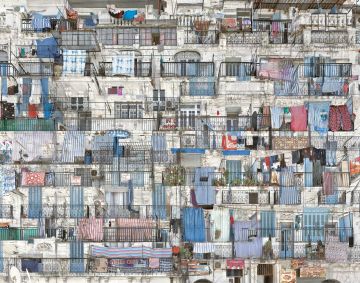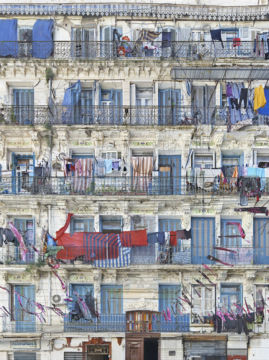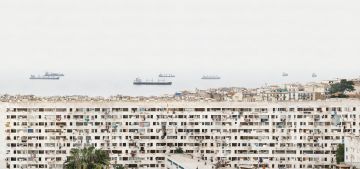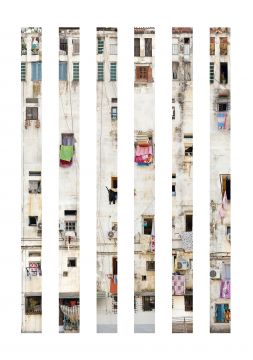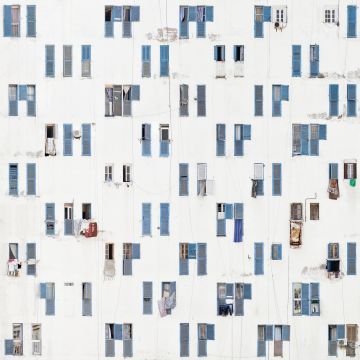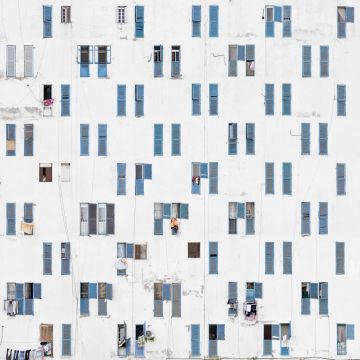 Sète
Far from reports as well as postcards, Stéphane Couturier's "hybridisations" reveal a port city that the old people of Sète, who were under the spell, thought they knew. Every year, Images singulières invites a renowned artist to take a look at the city. The styles of each of them - the Swede Anders Petersen (2008) or the Frenchman Richard Dumas (2014) - are immediately recognizable, but they all played the game of photographs taken on site. With the decision to choose Stéphane Couturier (born 1957) for this tenth event in documentary photography, the festival has completely changed its perspective. Unlike his predecessors, the photographer is a "plasticizer", i.e. he does not create reportages, but uses his images taken in the city as raw material, which he reworks and models on the computer. Sometimes to the point of unreality in the manner of a painter. Some of his "photographic paintings" on Sète are reminiscent of Fernand Léger's "Le Grand Tug" (1923) or the very graphic paintings of the Russian Constructivist Alexander Rodchenko from the late 1910s. However, it is impossible to equate his work with modern art. The artist does not make the city abstract. On the contrary, Stéphane Couturier transfigures it, reveals its soul, its past, its hidden face.
Melting Point / Brasilia
Stéphane Couturier proposes with the series Melting point Brasilia a new reading of Oscar Niemeyer's architecture. Rather than favouring a single point of view, Stéphane Couturier superimposes two shots. This duality offers a new look, as well as new questions about recorded reality. Stéphane Couturier's work offers a new architecture of the city of Brasilia. The artist transmits his own vision of the world and gives the viewer some clues to decipher this new fragmentary and experimental universe. With these new photographs Stéphane Couturier blurs our gaze. Leaving the documentary aspect, he shapes a plastic work. The new architectural and visual "creation" shown to us questions the duality of the sighted subject and the thing seen. By renewing his vocabulary with each series, Stéphane Couturier conveys his own vision of the world. This vision is by no means an affirmation, it is a question here of diverting the viewer's gaze and offering him a few clues that will allow him to decipher Couturier's universe - formerly urban archaeology -. Mathieu Poirier wrote in 2004 about this artist: 'each shot is like a set, which, as in theatre, is superimposed on another, supports or contradicts it'. Here in the series Melting point Brasilia, the sets blend together and create a new fragmented and experimental environment.