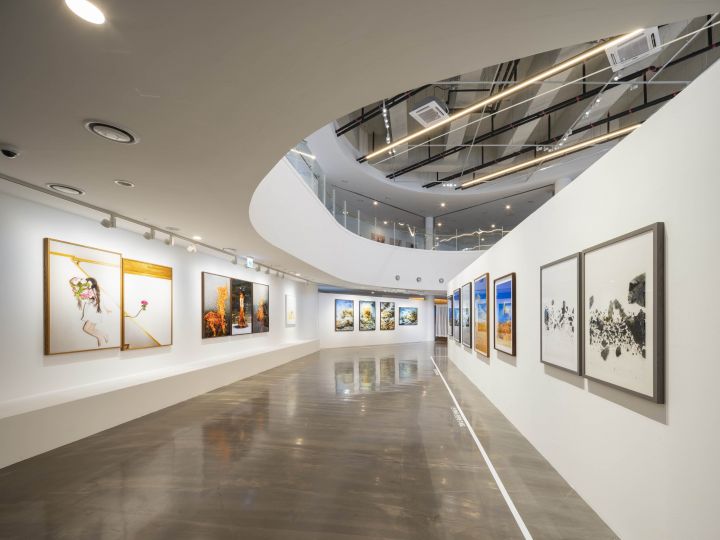 Seoul Botanic Park presents AHN JUN: On Gravity in 2022. This solo exhibition of artist Jun Ahn is organized to appreciate the transcendent beauty of nature based on the perception of our surrounding environment. Since a group exhibition in 2008, Jun Ahn has presented work actively in Korea and abroad, using high-speed photography to capture fleeting moments imperceptible to the human eye, revealing the surreality of reality, transcendence and the sublime.
In the exhibition, Ahn's main project presents images for which she repeatedly threw objects into the air or explored fast-paced phenomena, shooting them at higher shutter speeds. The works in the series, One Life are produced by throwing apples in the air and selecting the images from a sequence of rapidly taken photos where the apples appear to be paused in mid-air, seemingly defying gravity. Quoted from the first part of a phrase by the British historian Thomas Carlyle, "One Life–a little gleam of time between two eternities," the series title "One Life" alludes to this brief moment of existence via the apples that are thrown into the air but eventually fall due to gravity. Consisting of untitled works, Ahn's Liberation series utilizes the same production process, this time focusing on stones. Creating images that defy gravity, the apparently levitating stones serve as an allegory to "life" destined to fall to the ground and reveal a surreal dimension within reality.
The untitled works from the series, Float are high-speed photographs of stone fragments falling from a conveyor belt to a yard. Unlike One Life and Liberation, the lack of background gives the stones the appearance of floating in a space where there is no gravity at all. For series, The Tempest, Ahn took photos at the Paldang dam, capturing a huge amount of water being discharged and swirling around. These two series provide the viewer with a transcendent experience in which time has stopped, conveying the sublime.
Also on display are works from the Self-Portrait series which Ahn created while mourning her deceased grandmother, and photographs of the sky and birds, which symbolize freedom and dreams, homages to the fantasy of flying.
Artist Jun Ahn believes that "to be alive is like being an object thrown into space under gravity. It is like being obliged to run towards death with no choice, crossing time and space." Ahn takes this belief and reflects on life through easily ignored materials such as stones, water, and apples. In the works of Jun Ahn, invisible moments are captured through high-speed photography allowing us to contemplate life from a fresh perspective. Seoul Botanic Park welcomes audiences to broaden their awareness of the environment that surrounds us and feel the awe and priceless beauty of nature.